The Diocese of Exeter joined the Parish Giving Scheme in 2013, becoming the fourth Church of England diocese to do so, after Gloucester, Winchester and Chichester.
Nearly half of all parish churches in the Diocese have since signed up to the Scheme, with donations of c. £2m (excluding Gift Aid) processed during 2019.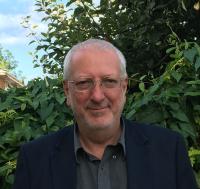 Mission Resource Assistant Advisor, Stephen Mitchell,
shares his views on the Scheme below.
What are the main advantages of the Parish Giving Scheme?
I would recommend the Parish Giving Scheme for several reasons:
I believe that those parishes who've implemented PGS are in a better financial position than those that haven't, as encouraging people to give through the Scheme can provide churches with a regular income throughout the year.
Across our Diocese, over 50% of those that sign up to the Scheme opt to have their gifts increased by inflation each year. This is a unique feature of the Parish Giving Scheme, helping churches to combat the threat of so-called static giving.
The PGS provides a cheaper and more reliable form of regular giving than a traditional envelope scheme.
Running an envelope scheme is expensive, the hidden cost of which is borne by individual churches. It can also prove unreliable, for instance, if a donor falls ill or goes away on holiday. The Parish Giving Scheme enables donors to give regularly, whether or not they are able to attend services. This is great news both for church treasurers, in terms of budgeting, and for donors themselves, as they can be confident that the church will receive their gift, whatever happens.
Giving through the PGS can result in larger donations, as people tend to carry less cash these days. It also reduces the amount of cash handled by parish volunteers – which is a big advantage with banks closing local branches, as well as from a security viewpoint.
The fact that Gift Aid is processed centrally by the PGS team means reduced administration at parish level, as well as improved cash flow because it is claimed every month. This can be a great help to treasurers, who often have enough to do as it is!
There is also no requirement for participating churches to run a particular brand of accounting software, in order to join the Scheme. A monthly statement of all gifts received through the PGS can be accessed securely via the PGS website by the nominated parish representative(s).
Finally, the PGS offers a 'Wider Community' appeal, designed to help parishes engage with those in the local community who perhaps don't attend worship services, but would be happy to set up a regular gift in support of the church.
What changes, if any, do you feel might improve the Scheme?
It is not a perfect system, but it is improving. For example, donors can now sign up to PGS over the telephone – whereas, prior to April 2020, they could only do so via a paper gift form. And with the development of the new PGS website, donors will soon be able to sign up online!
What would you say to a Diocese considering introducing the Scheme?
Promoting the Parish Giving Scheme at both Diocesan and parish level increases the focus on giving. It offers an opportunity to remind people that giving is part of Christian discipleship and that churches rely on regular giving to continue to grow their mission and ministry in the community.