A Generous Advent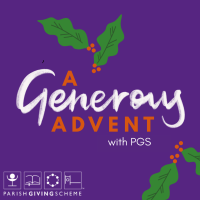 In a new podcast series, PGS is offering readings and reflections that will help us to experience moments of peace and wonder as we journey through Advent 2021.
Every day from 28 November until Christmas, Grant Forrest, our CEO, will be sharing a few minutes with you where we can pause and reflect on our personal generosity, and the generosity of God, in the joy of Jesus's birth.
You can find these bite-sized podcast editions on all the major podcast directories, where you can tick the 'follow' box to make sure each new edition is safely downloaded to your device.
Click any of the buttons below to get started.