Encouraging generosity at CRE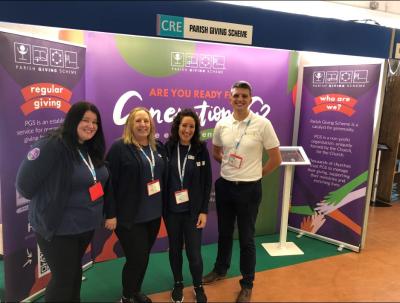 In early October, PGS exhibited at the Christian Resources Exhibition (CRE) for the first time, sharing our thoughts on encouraging generosity and showing how we support churches as a mechanism for regular giving.
More than 2,000 visitors attended the event at Sandown Park, Surrey, over three days. Much discussion at the show was prompted by our stand theme of Generation G and the idea that we are in an era of generosity. This is because at PGS we see, every day, just how generous people are when it comes to giving to their church and supporting its local ministry.
More than 60,000 people give regularly to their church through PGS and many of them choose to increase their gift every year. Even during Covid, giving continued and it seems to us that – despite all of life's challenges – we are experiencing an era of generosity, which is something to be welcomed and nurtured. We call this Generation G – because we think there's a new generation that's not defined by age, but by living life generously.
PGS helps Generation G to flourish in worshipping communities, through regular generous giving. We carried this theme through the discussions we had with givers on the stand, many of whom stopped by to share comments and appreciation of the scheme. It also served to start conversation at our invite-only reception which included an informal workshop with a small group discussing what generosity means in their churches.
Our two public seminars showed Generation G in action as we were joined by the vicar and treasurer from St Andrew's in Hove, and the treasurer from St John's in Egham, who all shared stories about the transformative role of regular giving in their churches and the positive impacts it's having on their ministry and their communities. We were thankful to share this experience in partnership with the National Giving Team and grateful to Jonathan de Bernhardt Wood and Helen Simpkiss for their additional insight.
Thank you to everyone who attended and shared their thoughts and experiences with us, we hope CRE provided everyone as much food for thought as it did for us.